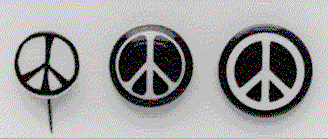 It is inspiring how quickly the symbol created for nuclear disarmament has spread around the world as the "peace symbol", becoming one of the most recognized symbols on earth. It seems to show a huge demand for expressions of peace, especially after the World Wars. People everywhere identify with the concept of peace, and feel a need to express that concept universally. There has never been that desire to have a symbol for war, which seems to reflect people's basic preference for peace.
The "peace symbol" was designed on February 21, 1958 by Gerald Holtom in England. The symbol is the composite semaphore signal of flags for the letters "N" and "D" standing for Nuclear Disarmament ("N" is two flags held down at a 45 degree angle, and "D" is one flag up and one flag down). The symbol was introduced at the Aldermaston March, the first action of the newly formed Campaign for Nuclear Disarmament (CND). The "Disarmament Symbol" made its public debut on April 4, 1958, in front of 5,000 people gathered in London to show support for the Ban the Bomb movement.
They came to demonstrate against Britain's first hydrogen bomb tests. The Cold War was in full swing and Britain had just carried out its first hydrogen bomb test at Christmas Island in the Pacific. They assembled at Trafalgar Square, and then thousands walked to the town of Aldermaston, site of an atomic weapons research plant being built.
It was a very socially mixed, musical affair. Musicians kept up the marchers' spirits by playing their instruments, a key role in this historic event. Over the next four days, the marchers braved rain and snow to march over 50 miles. By the time they reached Aldermaston, they had grown to a procession of marchers a mile long.
Gerald Holtom was a professional artist and graduate of the Royal College of Arts in London. He was one of many intellectuals in Britain during the 1950's who were deeply disturbed by witnessing the horrors of Hiroshima and Nagasaki, and then watching in disbelief as their own government, despite being in a time of post-war material hardship, raced to join the nuclear club.
The peace symbol was first drawn on home-made banners and ceramic badges. Although the symbol was originally designed only as a sign for nuclear disarmament, it quickly spread around the world and within ten years had become the international symbol of peace. It has deliberately never been copyrighted. Throughout the years it has taken on many different meanings, including freedom and unity.
Millions of people around the world, regardless of race or religious beliefs, have looked to the peace sign to unite them. It has become an enduring cultural icon. It is probably the most commonly used non-religious symbol of hope in the world, instantly recognized anywhere as the universal sign for peace. Quite an accomplishment for an image which, instead of being based on some famous existing object, was created from scratch to represent a common idea.
Unfortunately, after 50 years we live in a world no closer to nuclear disarmament than it was in 1958. In fact, it seems we are farther away than ever before. Although the world is currently filled with wars, the peace symbol is a reminder of how much people long for peace.