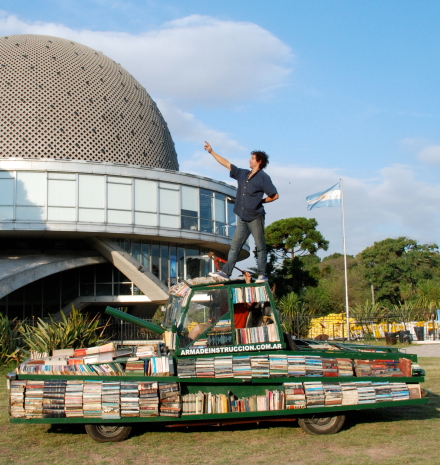 Raul Lemesoff, an artist from Argentina, converted a former military vehicle into a mobile library whose weapons are books. The modified 1979 Ford Falcon holds around 900 books and resembles a tank. His "Weapon of Mass Instruction", or "Arma De Instrucción Masiva" (ADIM) in Spanish, became very popular. Raul often cruises the streets of Buenos Aires and other towns and villages, as well as travelling throughout the country, sometimes visiting areas with no access to education or books. He has built a second vehicle, and a third which he brought to The Hague in Holland.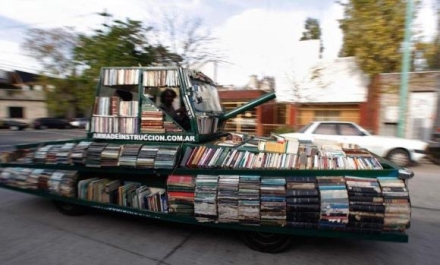 The Weapon of Mass Instruction contributes to peace and understanding of people through literacy.
On his website, Raul explains that the Weapon of Mass Instruction is a mobile sculpture that carries books and gives them away for free. The ability to transport allows them to receive donations of books from anywhere and bring them to anywhere. Small quantities of donated books are added to the vehicle, while large quantities are given to schools and communities throughout South America. Raul describes the vehicle as a "contribution to peace through literature."
The Weapon of Mass Instruction is a unique piece of art – part education, part inspiration, part protest, and part encouragement. It is "an image from another dimension." The book tank conveys a message that transcends the boundaries of art and politics, taking the experience outside of the usual locations of schools, museums, cultural centers, or libraries. The project has encouraged reading and stimulated creativity in the most marginalized socio-economic and geographic populations.
The Weapon of Mass Instruction accepts donations of all kinds of books; including novels, essays, scientific books, literary books, text books, children's books, dictionaries, and encyclopedias. They never refuse a book.
The ultimate goal of this educational weapon is to show the many ways there are to coexist and have tolerance and respect for others, increasing mutual understanding, and strengthening peaceful relations among and within nations. They create interaction between communities and within them to increase their knowledge of each other and build mutual trust. They encourage people around the world to build similar weapons of mass instruction, spreading books and peace to the far corners of the planet.
The first Weapon of Mass Instruction…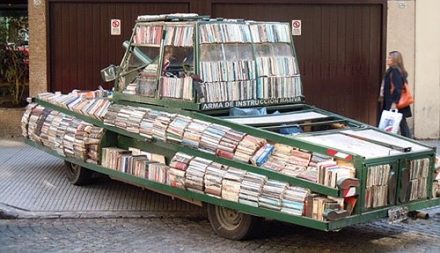 The second Weapon of Mass Instruction…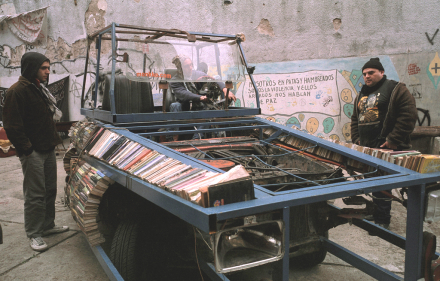 The third Weapon of Mass Instruction…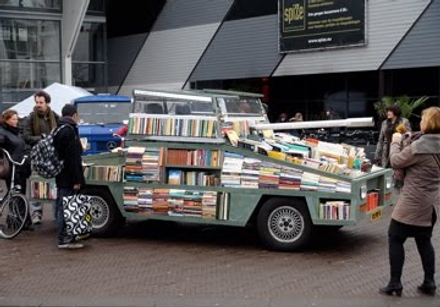 Click here to see a short video in English of the Weapon of Mass Instuction on YouTube.
Here is a video in Spanish of an interview with Raul Lemesoff and his vehicle…