Countries have borders, friends don't.
Friends Without Borders is a peace campaign created to encourage cross-border friendships in conflict zones, building connections directly between people. It's original focus was a massive letter writing campaign between children in India and Pakistan, which became the largest peace effort in both India and Pakistan's history. As they explain, "Children have a natural instinct toward friendship and will jump to reach out and create new friends, when given the opportunity. The simple act of writing a letter leaves deep and lasting impressions that help to humanize 'the other.' These are the seeds that promise to mature into a safer, friendlier world."
Friends Without Borders is a new approach to world peace. "All across India, tens of thousands of children have been writing heartfelt letters to the students in Pakistan. And all across Pakistan, tens of thousands of children are replying with heartfelt letters back. New connections are being made. New friendships are being formed." It's an amazing story, which features the World's Largest Love Letter.
Here is an inspiring short film about the history of Friends Without Borders and the enormous impact it has had both in India and Pakistan, serving as a model for building peace, using the natural goodness of children and the power to connect through letters and the internet…
Friends Without Borders teamed up with the non-profit Roots 2 Routes to create one of the most ambitious events in the history of India and Pakistan on August 14, 2007, an epic peace concert across the border of India and Pakistan on their joint Independence Day. In the sixty years since both India and Pakistan achieved national independence, the people of India and the people of Pakistan have never jointly celebrated the common political event that gave birth to both nations. The organizers of the concert wanted to change that.
The event was called "Dil se Dil: Independence Day Friendship Celebration" and aimed "to lead the youth of both countries into a new era of friendship and cultural interaction". It was to be a unifying concert, with performances on twin stages, one in India and one in Pakistan, on either side of the Attari/Wagah border. Live performances alternating from one stage to the other, visible to the entire live audience, no matter on which side of the border they were. In addition, this historic event was to be televised live in both countries.
The two-stage-one-concert approach envisioned an innovative combination of advanced telecommunications, sound engineering, and broadcast technology which was as symbolic as it was practical. As Friends Without Borders explains, "It represents the younger generation doing exactly what they do best: harnessing technology to create community and to overcome distance, physical barriers, and outmoded thinking. Dil se Dil is a celebration of our past, acknowledging our shared history while recognizing that these two great countries are pursuing separate national destinies. It is a celebration of our present, displaying our common humanity. We dance to the same songs! It is a celebration of our future, demonstrating that mutual dreams of more peaceful, open, collaborative relations are indeed close at hand."
Unfortunately, at the last minute, the authorities cancelled the concert after receiving a threat of mass violence perceived by the Indian Intelligence Bureau to be specific, credible, and beyond the ability of the government to provide adequate security.
But the idea lived on, and inspired similar events. In 2010, two of South Asia's largest media outlets, the Times of India and the Jang Group in Pakistan, joined forces to create "a series of cross-border cultural interactions, business seminars, music and literary festivals, and citizens meet that will give the bonds of humanity a chance to survive outside the battlefields of politics, terrorism, and fundamentalism." The project is called "Aman ki Asha" or "Hope for Peace", and the first program they have planned is a concert featuring both Indian and Pakistani pop musicians. They declare that, "Our subcontinent needs to follow the footprints left behind by the great poets, sufi saints and the bhakts who preached and practised love and inclusiveness."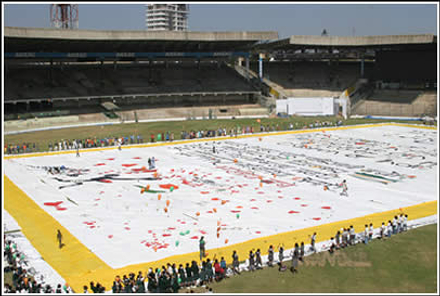 The world's largest love letter, in a stadium in Bangalore, India before being sent to Pakistan.